CCBA President Dr. Angela Kersenbrock Appointed to National Credential As You Go Initiative Advisory Board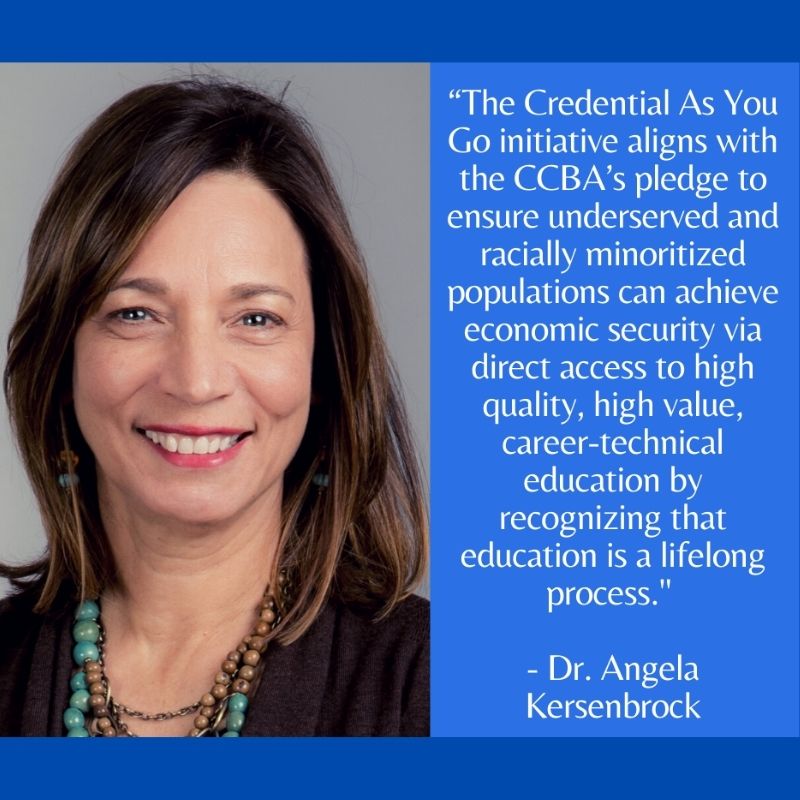 Dr. Angela Kersenbrock, president of the Community College Baccalaureate Association (CCBA) was recently appointed to the Phase 2 Advisory Board for SUNY Empire State College's Credential As You Go initiative. 
"The members of this advisory board represent several categories of credentialing expertise – higher education institutions, state systems of higher education, research and policy think tanks, philanthropy, business/industry and related associations, and workforce groups," explains Nan Travers, director of the Center for Leadership in Credentialing Learning at SUNY Empire.
Led by Travers, the yearlong initiative is the result of a $220,000 grant from the Lumina Foundation to SUNY Empire to develop a nationally recognized incremental higher education credentialing system that addresses the needs of today's lifelong learners by expanding upon existing certificates, undergraduate degrees and graduate degrees. 
According to the project's developers, the U.S. lacks a system that allows individuals to be recognized for their knowledge through established and widely accepted credentials or a way to 'credential up' their learning as they progress through work and life experiences. An authorized, incremental credentialing system that is encouraged and supported at the federal, accreditation, state, system, and institutional levels will provide clear credentialing pathways as alternatives to the current, restrictive degree system for all learners – first-time students, returning adults, or adults with no recognized post-secondary education.  
"The Credential As You Go initiative aligns with the CCBA's pledge to ensure underserved, non-traditional adult students can achieve economic security via direct access to high quality, high value, career-technical education by recognizing that education is a lifelong learning process," Kersenbrock says. "I look forward to working with this esteemed collection of advisory board members as we help design a national credentialing system that provides equitable pathways to higher education."
About the Community College Baccalaureate Association
Since 1999, the Community College Baccalaureate Association (CCBA) has been the nation's only organization dedicated to promoting baccalaureate degrees on community college campuses as a means of closing racial, ethnic, and economic gaps by providing its members access to research data and strategic guidance as they develop and implement their baccalaureate degree programs.