Conference Registration Fees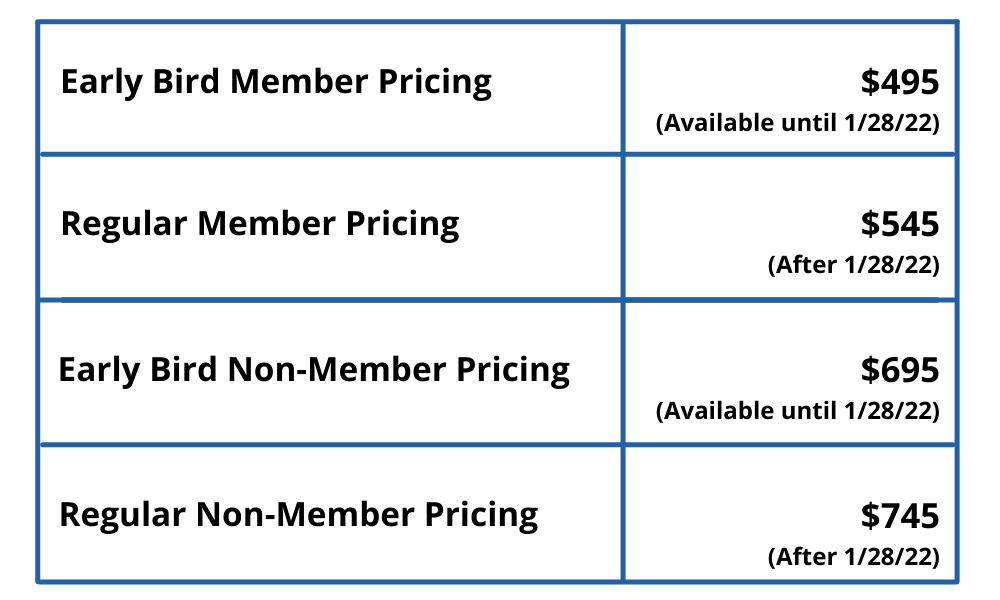 Thank you for your interest in CCBA Conference 2022! One of the most significant ways you can support the conference and our organization is by booking your accommodations at the El Conquistador through the link below.
During your stay, you will enjoy premium amenities, easy access to the conference just steps away from your room and save valuable dollars on dining and transportation. Best of all, you can take advantage of networking opportunities with CCBA's think-tank of CCB experts before, during and after each day's events.
Join us at the El Conquistador so you don't miss a minute of what is guaranteed to be an interactive, educational and FUN experience! You can learn more about the Tucson area here.
We'll see you in Tucson in February!
Conference Payment Policy
Early bird registration fee must be paid by January 17, 2021. All other conference registration fees must be received by February 16, 2022.
Conference Cancellation Policy
All notification of cancellations must be received in writing via email no later than 30 calendar days prior to the first day of the conference to be eligible for refund. Full refunds, minus a $100 processing fee, will be given for cancellations received at least 30 calendar days prior to the first day of the conference. Refunds will not be granted for any notification received after this date. However, you may request a substitution for another attendee from your college or institution.
COVID-19 Protocol
Your Personal Health and Safety Accountability Commitment
In light of the ongoing pandemic, your safety is our paramount concern. CCBA strongly encourages all attendees to be fully vaccinated against Covid-19 in advance of the 2022 Conference. CCBA will follow all relevant protocols and CDC guidelines as we work closely with El Conquistador, Hilton to promote the recommended practices at the time of the event.
An inherent risk of exposure to COVID-19 exists in any public place where people are present. By attending CCBA 2022, you voluntarily assume all risks and personal expense related to exposure to COVID-19. As such, CCBA requests that you confirm that you DO NOT fall into any of the following two categories:
Currently or within the past ten (10) days experienced any symptoms associated with COVID-19, which include fever, cough and shortness of breath among others.

Believe that you may have been recently exposed to a confirmed or suspected case of COVID-19 or have been diagnosed with COVID-19.
If you become ill during the conference, we ask that you immediately contact a CCBA staff member at 407.314.0297. 
COVID Safety Protocols
Attendees, including sponsors, partners and vendors, may voluntarily present Proof of Vaccination at the CCBA registration desk. Examples of Proof of Vaccination include CDC vaccination card or a digital equivalent. 

If proof of vaccination is not available, the CCBA requires that Conference attendees, including sponsors, partners and vendors, present a negative PCR Covid-19 test taken within 48 hours of conference registration. Rapid antigen tests will not be accepted. CCBA will not be providing testing services on site.




All attendees including sponsors, partners and vendors, are required to wear a mask while attending all indoor conference events/meetings. 

Hilton has developed a global program introducing a new standard of hotel cleanliness and disinfection: Hilton CleanStay™ with Lysol protection. For more information, visit

www.hiltonelconquistador.com/cleanstay

. 
I acknowledge and understand the following:
Participation in the Event involves possible exposure to and/or increased risk of contracting or spreading, infectious diseases, including, but not limited to, COVID-19.




I agree to abide by all preventative measures put in place by the CCBA, their respective employees, agents, contractors, and volunteers at any time prior to and during the event including wearing face coverings at all times in indoor public spaces and promptly notifying the CCBA if any registrant experiences symptoms of COVID-19 during the event.




I knowingly and freely assume all such risks related to illness and infectious diseases, such as COVID-19.
BY ATTENDING AND/OR PARTICIPATING IN THE EVENT, YOU ARE DEEMED TO HAVE GIVEN A FULL RELEASE OF LIABILITY TO THE CCBA TO THE FULLEST EXTENT PERMITTED BY LAW.
*You will be required to sign this document at conference registration.