As community colleges continue to earn national recognition for delivering accessible, affordable and equitable bachelor's degree pathways, the Community College Baccalaureate Association (CCBA) is guiding this important higher education movement. In recognition of this critical leadership role, ECMC Foundation recently awarded the CCBA and its partner, Bragg & Associates, Inc., a $500,000 grant to further its work to scale up community college baccalaureate (CCB) degrees across the country.
Three key goals of this two-year, second-phase project include:
1) Assessing the needs, capacity, and interest of existing and prospective CCB-conferring states to determine their readiness to confer equity-focused CCB pathways.
2) Identifying existing CCB pathways that utilize promising practices and achieve equitable student outcomes to serve as models for scaling up more high quality CCB-degree programs across the United States.
3) Supporting a plan to develop the capacity of CCBA to fulfill its mission as the premier national organization advocating for more equitable baccalaureate pathways to scale up CCB-degree programs.
Projects with a Purpose
These projects, coupled with the accomplishments from the first phase of funding, will result in a comprehensive plan to create evidenced-based guidance and tools to enable states and community colleges to scale up CCB degrees. 
"We are excited about the opportunity CCB degrees hold for both individuals pursuing career advancement after earning sub-baccalaureate career and technical education credentials as well as employers seeking a prepared and diverse workforce," shared Jennifer Zeisler, senior program director at ECMC Foundation. "The CCBA continues to be well positioned to build awareness of CCB degrees and provide guidance to state leaders and college administrations during this time of fast growth."
ECMC Foundation is a Los Angeles-based, nationally focused foundation whose mission is to improve higher education for career success among underserved populations through evidence-based innovation. It is one of several affiliates under the ECMC Group enterprise based in Minneapolis. ECMC Foundation makes investments to remove barriers to postsecondary completion; build the capacity of institutions, systems and organizations; and transform the postsecondary ecosystem using a spectrum of funding structures, including strategic grantmaking and program-related investments, to support both nonprofit and for-profit ventures. Working with grantees, partners and peers, ECMC Foundation's vision is for all learners to unlock their fullest potential.
Dr. Debra Bragg president of Bragg & Associates and CCBA President Dr. Angela Kersenbrock recently convened online to highlight the power of the community college baccalaureate as they started the second phase of research funded by the ECMC Foundation.
Featuring a panel of special guests including:
Drs. Bragg and Kersenbrock reviewed the accomplishments from the first phase of funding and introduce a comprehensive plan to create evidenced-based guidance and tools to enable states and community colleges to scale up CCB degrees.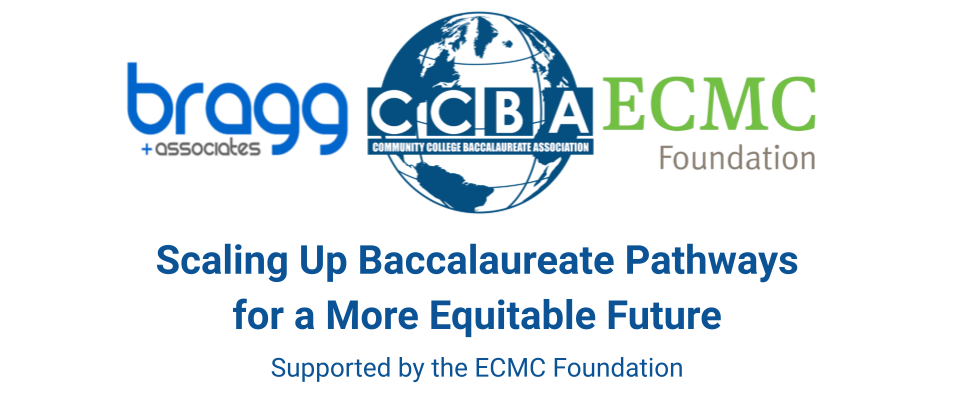 Highlights and Lessons from Leaders in the Field
During our September 2023 CCBA Institute Webinar, supported by ECMC Foundation, CCB colleagues in critical industry sectors shared practitioner-focused strategies, tools for aligning with industry partners and proven practices as they answered questions such as:
Why and how was your baccalaureate program established?
Who are the partners you worked with to develop the degree?
How were you able to recruit faculty with the skills, expertise, and credentials needed?
How is the program ensuring equitable admissions for historically underrepresented students?
 Moderated by CCBA President Dr. Angela Kersenbrock and featuring: