June 2022 – CCBA Newsletter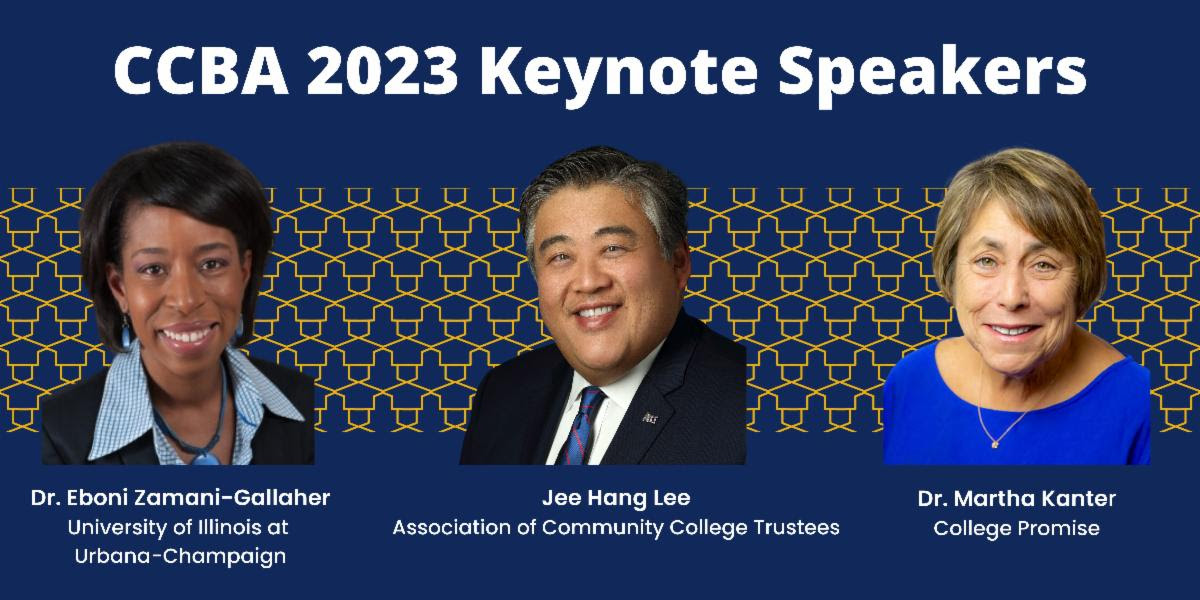 The CCBA Board is thrilled to announce these higher education innovators will join us as keynote speakers for CCBA Conference 2023 in Palm Springs, CA February 15-17:
Dr. Eboni Zamani-Gallaher is Professor of Higher Education and Community College Leadership, Director of the Office for Community College Research and Leadership (OCCRL) and Executive Director of the Council for the Study of Community Colleges (CSCC) at the University of Illinois at Urbana-Champaign.
Jee Hang Lee is president and CEO of the Association of Community College Trustees (ACCT).
Dr. Martha Kanter leads College Promise as CEO. She is also a Senior Fellow at New York University's Steinhardt Institute for Higher Education Policy and the former U.S. Under Secretary of Education (2009-2013).
Mark your calendar today for this exciting annual event!
CCBA Institute Webinar Presents:
Lessons from the Field: Scaling Up Student-Centered CCB Programs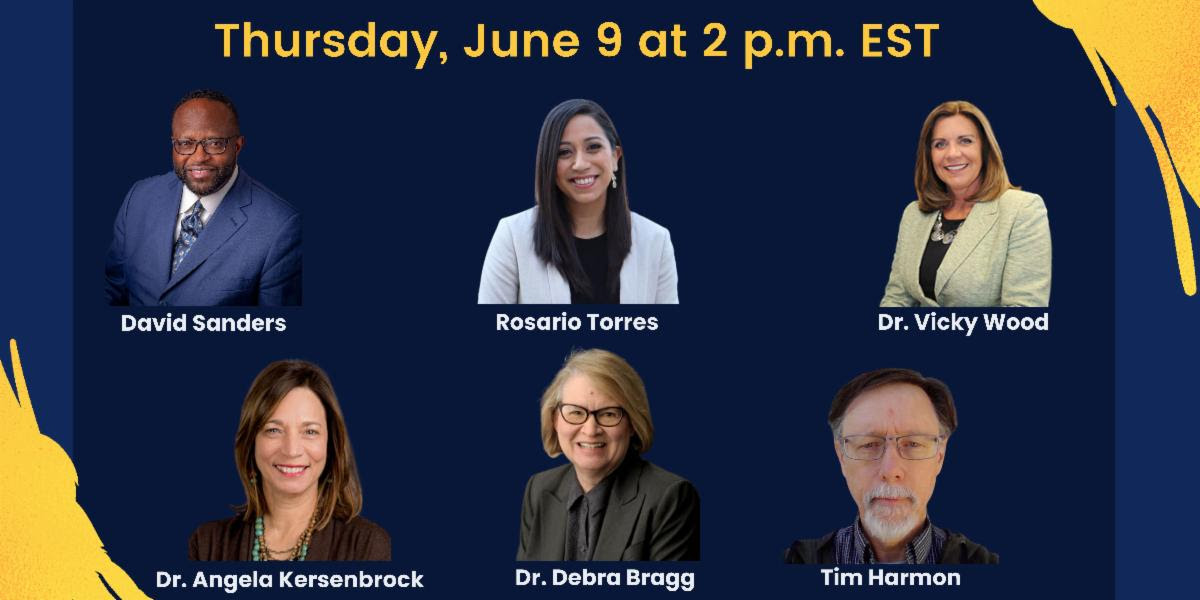 What practices contribute to student success in
Community College Baccalaureate (CCB) programs?
Led by Moderator Dr. Angela Kersenbrock, president of CCBA, this free webinar will include the results of a national study of promising practices funded by the ECMC Foundation and conducted by Bragg & Associates. Rosario Torres, program officer at ECMC Foundation, will discuss the importance of promising practices, and researchers Dr. Debra Bragg, president of Bragg & Associates, and Tim Harmon, president of Workforce Enterprise Services, will share their research findings and lessons learned.
David Sanders, president of Malcolm X College (Chicago), and Dr. Vicky Wood, president of Washington State Community College (Ohio) will provide their perspectives on the importance of this research for the future of their value-driven baccalaureates.
Webinar brought to you by the CCBA with the support of the ECMC Foundation.
CCBA Member Benefit:
Professional Development

Our most recent CCBA Institute Webinar: Employer Partnerships Essential to High-Quality CCB Programs, moderated by Tim Harmon, president of Workforce Enterprise Services, explored the importance of industry partners as essential elements of effective CCB programs. Guest panelists included:
CCBA National News Roundup
Wyoming community colleges graduate first-ever Bachelor degree recipients
For the first time in Wyoming's history, community college graduation ceremonies included Bachelor degree recipients…READ MORE
Lone Star College awards record number of degrees and certifications
This year also marks the first time LSC conferred Bachelor of Applied Technology in Cybersecurity and Bachelor of Applied Science in Energy, Manufacturing & Trades Management degrees… READ MORE
Evaluating the Student Experience at Community College Baccalaureate Programs
New America provides qualitative results about who CCB students are, what information and opportunities drive them toward completion of their programs, and what the CCB degree means to them…READ MORE
California expanding community college baccalaureate programs
"It's the equity answer to baccalaureate attainment," said Kern Community College District Chancellor Sonya Christian…READ MORE
Congratulations to our community college colleagues who are proving we are making meaningful, measurable progress across the nation!